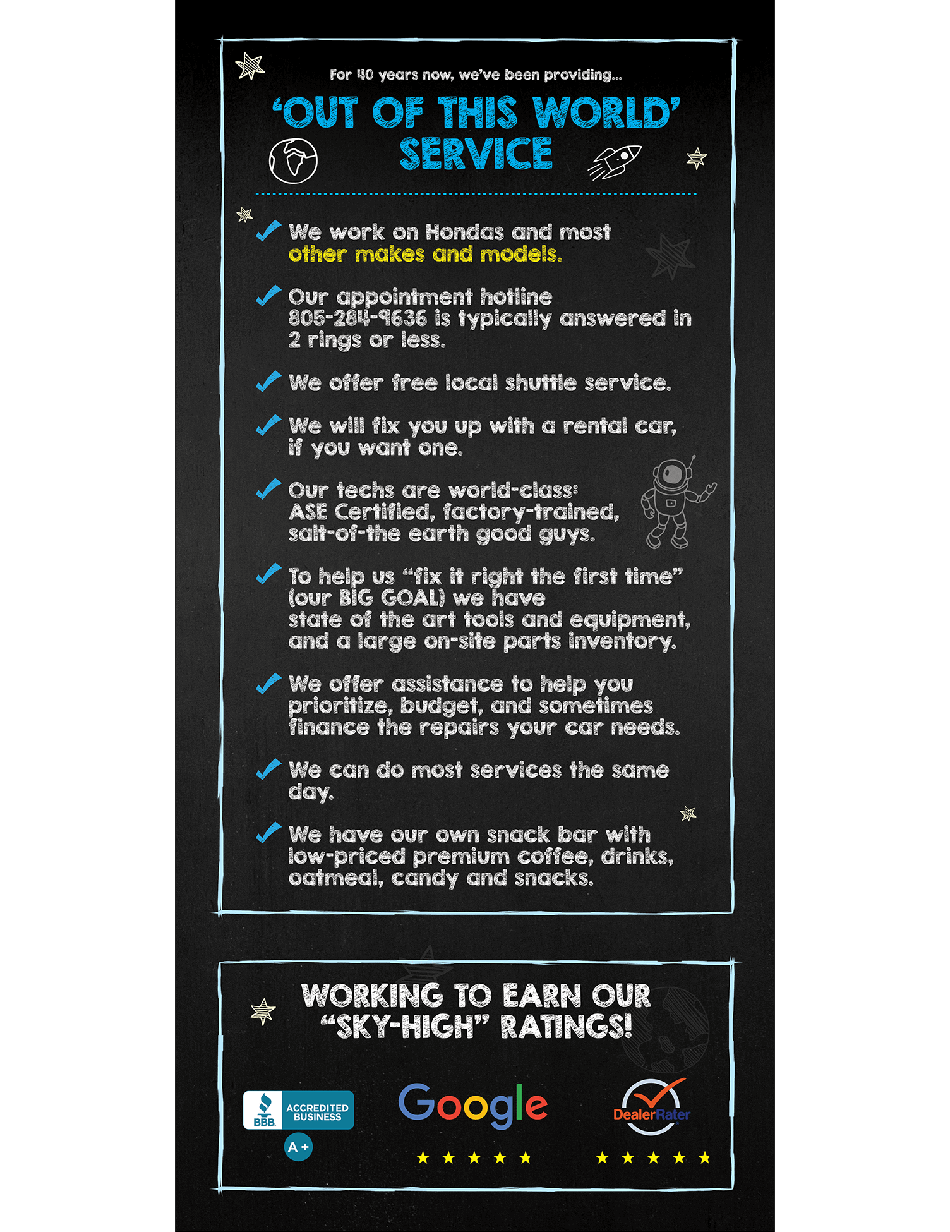 AWARD WINNING HYUNDAI SERVICE
At RocketTown Honda, our highly trained ASE Certified Technicians are here to provide exceptional service for most makes and models, including Hyundais! Without regular service and maintenance, normal wear and tear will begin having a negative impact on your vehicle's driving dynamics. Not only will service negligence affect your vehicle's performance, but also its longevity. Whether your check engine light just came on, you need a routine oil change, or your car requires more serious engine repair, you can turn to the RocketTown Honda service department for timely service from professionally ASE certified trained technicians.
Come to Us For:
Lube, Oil & Filter Change
Front End Alignment
Maintenance (Wipers, Headlights, Etc)
Replace / Adjust Brakes
Service Package
Muffler / Exhaust Repair
Coolant Flush
Vehicle Checkup / Inspection
Transmission Flush
Electrical Service
Tire Balance
Filter Replacement
Tire Rotation
Much More!
There are a lot of good reasons to choose RocketTown Honda for your automotive service, maintenance, and repair. First, our team of technicians has the tools, experience, and skills to get the job done right the first time so you aren't sacrificing more of your time to get your car operating the way it should.
In that same vein, we ensure timely service so you can get back your life. We understand your daily routine probably hinges on having access to your car, so we make every effort put you back behind the wheel of your car quickly.
Throughout the service process, our technicians are completely transparent and keep you in the know each step of the way so you know what to expect when it comes time to pay. With a team of true professionals, you'll quickly understand why more Lompoc Hyundai owners continue turning to RocketTown Honda to take care of their vehicles.